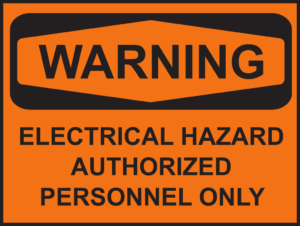 *Disclaimer: While Performance Wire and Cable intends to provide wire safety resources, we are not liable in any way. We suggest letting professionals conduct any electrical work. 
At Performance Wire and Cable, we are committed to offering only the best materials possible. But due to the nature of the industry, there will always be electrical hazards and risks that end users will encounter. So here are some wire and cable safety precautions you should consider in order to create a safer work environment.
Plan It Out
Always have a safety plan. This plan should include emergency activities, evacuations, and meet building codes. Not only will this help should there be any issues, but also conform to any legalities
(Don't) D-I-Y
Do-it-yourself projects are becoming more and more popular with the rise of YouTube and other online advice. Nonetheless, we suggest contacting a professional electrician who is extremely familiar and experienced with cable/wire installation and handling. Anytime you are dealing with electricity or other wire currents, it can be a dangerous job. Electricians are trained and understand safety protocols and guidelines. While they may be more expensive, their expertise will save money in the long run whether it's a small installation in your home or a big project in the workplace. Plus, you really can't put a price tag on safety and health.
Two-Way Street
Safety is a top priority for us. The same should be true at your place of business. Prior to installation, be sure to inspect machinery and equipment to see if it is running properly. While faulty wiring often leads to safety hazards, so does malfunctioning equipment. Reduce risks by ensuring your equipment is up-to-date. Not only that but the tools used for wire and cable handling matter, too. Here's a quick list of safety tools that help minimize electrical risks.
Know Your Surroundings
Wire and cable installation can sometimes lead you to some obscure locations and positions. Those can include:
Various heights

Concealed spaces

Underground areas

Areas near water
Scope out your workplace environment and identify any potential hazards first, before you begin a project. Also, diagnose the building's guidelines and restrictions. Some safety precautions may seem reasonable and obvious, while others may actually be mandatory.
Gear Up
Remember to always wear protective clothing when handling cable and wire. There is always the potential for sparking or other electrical risks. Sport non-conductive gloves and protect your eyes with proper safety eyewear. Flame-retardant clothes are a good investment for those who maintain cable and wiring frequently. Be sure to wear equipment that is necessary for your building or work area. This could include hard hats for possible falling materials, specific shoes to prevent slipping, and any other articles of clothing to reduce risk.
Testing in Progress
You finally have installed the cable or wiring. Great job! Now before reopening and allowing public access to the workspace, be sure to test everything out multiple times. Just because something is connected does not mean it will function properly. Testing and examining every step of the process will actually reduce the time spent on the project. Plus, your workspace is easily accessible if any changes need to be made.
Now What?
After you've concluded testing the connection and deem everything fit for use, be sure to properly place the cable or wire. Cable placement can be essential so it does not interrupt everyday activities, and may even be addressed in a building code. Remember to safely dispose or store old, unused, extra, or non-usable cable or wire. It still presents an electrical hazard and should be addressed accordingly.
For more information on cable and wire safety, check out our blog article on "Safety Procedures to Follow During Wire Installation."