Utilities are a set of services provided by different organizations that are consumed by the public. Many of our products at Performance Wire and Cable are suitable for the utility industry including:
Water
Gas
Oil
Sewer
Telecommunications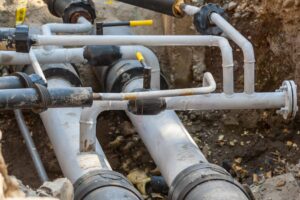 The product that is most commonly found running alongside these systems is underground tracer wire, or copper locating wire. This specific kind of wire's job is to help locate pipes and other systems after they have been installed in the ground. The electrical tracer wire is laid alongside pipes or cables during installation in order to find them at a later date for safe digging. Tracer wire is what is searched for when a need to locate one of these systems arises. Having the ability to locate almost to the exact spot a pipeline or wire system is located dramatically decreases the amount of time that is needed on site.
Tracer Wire for Underground Utility Systems
Laying tracer wire can be a crucial step when setting up an underground utility system. If a utility has been damaged due to not being able to locate it, the repairs become much more expensive than having laid the tracer wires at the start of the project.
While tracer wire is commonly used in the utility industry, it is also used in directional drilling applications, irrigation systems, and golf course sprinkler systems. Anywhere there is an underground system, tracer wire can be used to minimize the amount of earth that needs to be moved out of the way to fix an issue.