Performance Wire and Cable is a leading manufacturer and distributor of wire and cable, including tracer wire, pet fencing, ground wire, and electrical wiring. Our cable and wire products are made using the highest quality materials and are ideal for a wide range of applications.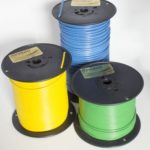 General Purpose Applications
Tracer wire from Performance Wire and Cable is ideal for a variety of general-purpose applications, including machine tools, circuits, and internal appliance wiring. It is also available for use in commercial, residential, and industrial buildings. Our underground tracer wire is ideal for projects that require locating underground lines and pipes. Its insulation is made up of a high molecular weight high-density polyethylene, making the wire very robust and resistant to crushing, abrasions, chemicals, oil, and moisture.
Grounding Applications
Performance Wire and Cable offers different styles and gauges of electrical wiring for grounding projects and applications. It is available in solid or stranded copper grounding wire, both in large or small gauge conductors. Our ground wire is available bare or with polyvinyl compound (PVC) or HMWPE insulation.
We also supply high-quality large-gauge conductor electric pet fence wire to be used in pet fence wiring. It is manufactured using pure copper with HMWPE insulation and offers less resistance, allowing signals to be transmitted faster and further within the fencing system.
Performance Wire and Cable is a trusted supplier of wire and cable for just about every project or application. We can customize your wire or cable orders to best meet your specifications with our array of different sizes, colors, lengths, and labeling. Please browse our products to learn more or contact us today to place an order.