Performance Wire and Cable is a leading manufacturer and distributor of wire and cable:
Our cable and wire products are made using the highest quality materials and are ideal for a wide range of applications.
Electrical Wire
Customizable – choose composition, size, insulation type, color, and labeling
Stock – a variety of wires to choose from, already in stock
Type – choose a wire for your needs; electrical, tracer, grounding, or pet-fence
Lead Time – in stock or quick turn-around of custom wire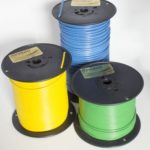 Tracer Wire
Tracer wire from Performance Wire and Cable is ideal for a variety of general-purpose applications:
machine tools
circuits
internal appliance wiring
Tracer wire is also available for use in commercial, residential, and industrial buildings. Our underground tracer wire is ideal for projects that require locating underground lines and pipes.
Tracer wire insulation is made up of a high molecular weight high-density polyethylene, making the wire very robust and resistant to crushing, abrasions, chemicals, oil, and moisture.